Pesach at Isabella Freedman
Spend Pesach in the Berkshires
Experience freedom – celebrate Passover surrounded by the beautiful foothills of the Berkshire Mountains.
Enjoy classes from our best teachers and delicious Kosher-for-Pesach fare. Our schedule is packed with activities for the whole family. Nourish your mind, body, and soul on one of the best Passover vacations you'll ever have!
Retreat Details
Pesach at Isabella Freedman features programs and activities for all ages, daily soulful orthodox davening, and communal seders with semi-private options available.
Nourishing farm-to-table kosher-for-Passover meals featuring cholov yisroel dairy products, ethically-sourced glatt kosher meat; vegan, vegetarian, and non-gebrochts options.
Pricing
Isabella Freedman has a variety of room types, which can accommodate individuals and families of various sizes. More details on accommodations can be found here.
Standard Room (Private Bathroom): $3,195 per adult in double occupancy | $5,025 single occupancy
Basic Room (Shared full bathroom between two rooms): $2,225 per adult in double occupancy | $3,500 single occupancy
Dormitory Style (shared half bathroom between two rooms) multiple occupancy: $1,850 per adult
Child (5-12 years old): $995
Toddler (2-4 years old): $495
Infant: (Under 2 years old): $95
Program Highlights
Seders: There are two options for each Seder. You can join a communal seder in our Dining Room or hold your semi-private Seder as a family unit in our Library.
Classes: Multiple Torah classes and text study on various topics are presented by renowned teachers and scholars. We also offer experiential classes with themes of the environment and the natural world.
Activities: Enjoy tours of our organic farm, guided trail hikes with extended excursion options, and daily gentle yoga. We offer pickling and cheese making workshops, boating, and many other perennial favorites including a feature silent film with live musical accompaniment.
Davening: We warmly welcome all guests to three daily minyans and Torah reading with soulful traditional orthodox davening, including traditional leadership roles. During Chol HaMoed, we offer daily musical Hallel. The davening space has a vertical mechitza down the middle.
Kids Activities
While many of our activities are family-friendly, there will also be dedicated programming for kids throughout the week. These will use our farm and the natural environment of the retreat center. Children Ages 2-4 will have half day programming. Children ages 5-12 will have full-day programming.
Kids programming will be outdoors as much as possible, including in the rain; a raincoat, rain boots, hiking boots or sneakers, and a labeled water bottle are required.
Gan for Toddler / Preschool – Ages 2-5
Parents/Guardians can choose to drop off their children or stay with them. Gan Shoreshim provides a safe and engaging space to play, explore, sing, and move. Children younger than two may attend, but parents/ guardians must stay. Programming is the morning only, except for arrival and departure days.
Camp for School-Aged kids: Ages 5-12
Camp provides many hands-on and nature-based experiential activities. Some examples include hikes, outdoor games, drama/improv, and learning about farming on the Adamah farm. Programming is both in the mornings and afternoons.
Educators and Program Leaders
Rabbi Micha Odenheimer founded Tevel b'Tzedek, an NGO promoting sustainable development in developing countries, in 2007. Rabbi Odenheimer wanted to provide young Jewish people with meaningful social justice experience abroad with the intention of creating strong Jewish leaders invested in the idea of Tikkun Olam (repairing the world). He is also a prolific journalist. Micha was awarded a BA in Religion from Yale University Cum Laude in 1980, and was ordained as a Rabbi by Rabbi Moshe Feinstein of blessed memory in 1984.
Rabbi Isaiah Joseph Rothstein serves as Rabbinic Scholar and Public Affairs Advisor at Jewish Federations of North America (JFNA) and leads the JEDI (Jewish equity, diversity and inclusion) and racial justice initiatives. Growing up in a multi-racial Chabad family in Monsey, NY, he sees himself as a human bridge, connecting disparate parts of the Jewish community and America. He received his rabbinic ordination (semicha) and masters of social work from Yeshiva University. Isaiah also served as rabbi-in-residence at Hazon, the Spiritual Leader at Carmel Academy, the youth director at the Young Israel of Stamford, and teacher at Camp Yavneh. Isaiah is a member of the Schusterman Foundation's ROI Fellowship and was listed as one of the Jewish Week's 36 Under 36.
Yoetzet Halakha Zissy Turner serves on the Judaic studies faculty at Salanter Akiba Riverdale (SAR) High School in Riverdale, NY, teaching Tanakh and Gemara. She is certified as a Yoetzet Halakha through Nishmat's Miriam Glaubach Center. Zissy has previously served as Community Educator at Lincoln Square Synagogue, where she facilitated programs and initiatives to engage with and teach the vibrant Upper West Side community. Zissy is a graduate of Yeshiva University's Graduate Program in Advanced Talmud Study (GPATS) where she was a Wexner Graduate Fellow / Davidson Scholar. Zissy has taught in diverse communities across the United States and Great Britain, sharing her love for Torah and Mitzvot with Jews in all stages of life.
Rabbi Yehuda Witt is an inclusive, committed, Israeli orthodox rabbi and passionate educator dedicated to supporting and inspiring Jews of all ages and backgrounds through learner-centered and community-focused programming. Yehuda is a Montessori trained Educator and received rabbinic ordination (semicha) from Rabbi Riskin at The Straus Rabbinical Seminary in Israel, in addition to receiving an additional certificate in Diaspora Leadership. Yehuda is currently a Head Teacher and Rebbi at the Joseph Kushner Hebrew Academy and a Rabbi in residence at Congregation Beth Israel in Schenectady, NY. Yehuda served as the Orthodox Rabbi at Boston University Hillel, the Co-director of the JLIC program at Boston University, and was on the faculty of the Yeshivat Simchat Shlomo semicha program. Yehuda has taught extensively throughout Israel and the US. Yehuda is passionate about sharing Judaism, both the traditional canon as well the richness of its cultural traditions.
Dr. Jon Greenberg has been presenting his Torah Flora Biblical and Talmudic botany programs since 2005. Drawing on his doctorate in agronomy from Cornell and his Torah scholarship, his programs demonstrate how honest, intelligent inquiry can resolve many apparent conflicts between science and Torah and enable us to use science to enrich our understanding and appreciation of Torah. In 2021, he published Fruits of Freedom, the Torah Flora Haggadah. Dr. Greenberg teaches science at the Abraham Joshua Heschel High School in New York.
Leah Gottfried is an award-winning director, writer, producer, actor, and founder of the production company Dignity Entertainment. She is the creator of the hit web series "Soon By You" which follows young Orthodox Jews living and dating in NYC. Leah graduated with a Film Studies degree from Yeshiva University where she studied drama, screenwriting, and TV writing as well as cinematography at NYU. Leah also studied at The Actors Circle in Los Angeles and has taught acting for theater and film for over 10 years.
Rabbi Sam Berkovitz teaches Tanakh and Machshevet Yisrael at SAR High School in Riverdale, NY. He received semicha at Rabbi Isaac Elchanan Theological Seminary at Yeshiva University and is completing a Master's Degree in Ancient Jewish History at the Bernard Revel Graduate school of Jewish Studies. He has worked with Dr. Lawrence Schiffman of NYU in editing a new volume on The Temple Scroll, the largest of the Dead Sea Scrolls. Rabbi Berkovitz has served as Rabbinic Intern at Kehilath Jeshurun in New York City. He has taught in diverse communities across the United States and Great Britain, sharing his unique synthesis of the academy and the Beit Midrash.
Sossie Vanek was born in Los Angeles in 1962. She grew up in an orthodox Jewish family of Holocaust survivors and received a traditional education within the community. Vanek was initially discouraged from pursuing a career in art since it was viewed by her family as impractical. It was only in 1989, in the midst of doctoral studies in Clinical Psychology in New York City, that Vanek reclaimed her inborn passion for painting by taking classes at Parsons School of Design in downtown Manhattan. From that point forward, over the next 30 years, Vanek created a prodigious body of work, exhibiting in galleries in Los Angeles, Art Basel Miami, and New York. Vanek cites Matisse and Milton Avery as her main artistic influences in striving towards the simplification of forms to depict their essence and create harmony. In 2017, Vanek was awarded a grant for outstanding artist by the inistry of Immigration in Israel and this grant enabled her to publish her art book titled "The Philosophy of Pink, Yellow and Blue".The artist currently works and exhibits in Jerusalem at her studio gallery called The Pink, Yellow and Blue Philosophy Studio.
Bruce Spierer is a Program Manager at Hazon working on Climate Action. He supports Jewish institutions to develop and integrate actions to address the climate crisis. Bruce brings ten years of experience working in urban agriculture, community composting, and public horticulture. Additionally, Bruce has worked in nonprofit strategic planning and leadership development. He holds a Masters degree from New York University in Environmental Conservation Education focusing on Nonprofit Management. Bruce is an amateur naturalist, lover of composting, and an avid fermenter of food and drink.
As Adamah Program Manager, Carly Sugar is the point of contact for all things Adamah. A Summer 2015 Alum, Carly is grateful to return to Falls Village to organize and facilitate dynamic and immersive programming for fellows and alumni. Carly most recently served as Founding Director of Giving Gardens at Yad Ezra– an educational garden and greenhouse at a kosher food pantry in Detroit's suburbs. Through her life and work in the city of Detroit, on Anishinaabe land, she has explored the intersection of food skills, Jewish ritual, and social change work, driven by the wisdom of Detroit's food system workers and activists. Carly enjoys long, often unfruitful, foraging walks in the woods. Carly will be using her expertise from running the Adamah fellowship to teach guests new skills such as pickling and cheese making.
As the Adamah Farm Director, Janna Siller leads apprentices, residential fellows, and volunteers in growing organic vegetables for the Isabella Freedman Jewish Retreat Center, local customers, and food banks while maintaining the fields as a resonant learning space. She teaches about growing food, climate change, policy, food systems, and Jewish tradition. As Hazon's advocacy coordinator, Janna leads grassroots efforts to raise Jewish voices on behalf of a more just and regenerative food system. Janna has been farming since 2005 and has been at Adamah since 2011. Physical work with the community and in the soil informs and inspires her approach as an advocate and educator.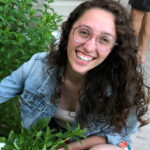 As an Adamah Apprentice, Hannah Fine is excited to get her hands dirty, reestablish a physical connection to the earth, and continue exploring the intersections of food, justice, and Judaism. Hannah comes to the apprenticeship after 3+ years on the Hazon Detroit team where she also served as a JOFEE (Jewish, Outdoor, Food, Farming, and Environmental Education) Fellow. A transplant to Detroit from the suburbs, Hannah is energized and inspired by the city's deep sense of community, especially as it relates to building resilience around food and land. She is excited to bring that with her to Adamah. Hannah enjoys wandering, pondering, and incomplete rhyme schemes.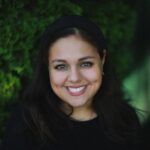 Ruthie Hollander was born in Germany, grew up in Michigan, and has spent the last six years in the tri-state area. She has worked in Jewish school settings for the last five years and is very passionate about educational accessibility and equality. Ruthie loves inventing new recipes, doing yoga late at night, and finding old bookstores to explore. She lives in New Jersey with her husband Max, her dog Momo, and lots of plants.
Max Hollander is a New Jersey-based semikha student and Jewish non-profit marketing professional. Max is driven by a love of Torah and a desire to share ideas that he finds powerful and meaningful with others, as well as a passion for learning and knowledge. Max lives in Passaic with his wife Ruthie and his puppy Momo and attends classes at RIETS and Bernard Revel Graduate School of Judaic Studies.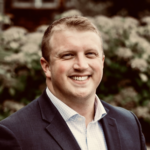 Dr. Ben Madsen is a school psychologist at a Yeshiva High School in New Jersey. He grew up in a Reform/Conservative Jewish community in Boston, Massachusetts. After encountering his Jewish identity as a young adult at Tufts University, he decided to expand his Jewish education after finishing his college degree in Clinical Psychology at Tufts University in 2013. After two years in yeshiva, Ben met his wife, they got married, and they spent a year in Israel learning Torah in Yerushalayim. They returned to the states so Ben could pursue his dream of becoming a therapist. In his doctoral program at Rutgers, Ben learned experientially in four different school settings and a clinic in New Jersey, all while taking classes and being an active member of the Edison Chabura, run by Rabbi Billowitz. Beyond his professional interests, he likes biking with his kids, Brazilian Jiu-Jitsu, and hosting fire-pit kumzitses in his back yard. He is excited to join the Hazon team to connect with other Jews who strive to find their path.
Shoshana Madson studied Fine Arts at Brandeis University, graduating summa cum laude with high honors, then pursued her MFA in painting at Boston University. She was a student teacher at both Universities, and taught AP Art in Jerusalem at Tichon Ramah Yerushalayim. Shoshana also studied at the seminary Midreshet Rachel v'Chaya. A Maine native, Shoshana now lives in New Jersey with her husband and two sons. She works for Rutgers University Foundation. In her spare time, Shoshana paints in her home studio and avidly gardens.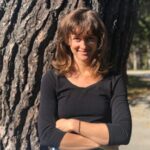 Zaro Bates Silverwolff is a certified yoga teacher and a social impact entrepreneur. In 2016 she co-founded Empress Green – a farming, sustainability, and personal wellness company dedicated to helping people heal and grow through connecting with the beauty in nature and the peace within ourselves. Originally from Brooklyn, NY, she has lived at Isabella Freedman with her husband Asher and son Sahar since January 2021.
Pinny Huberman led lively and musical minyanim in Toronto for several years before moving to Connecticut in 2020. With a passion for nusach and nigunim, he seeks to bring a traditional Hasidic tone into diverse davening spaces. Pinny is currently a doctoral student at Yale Law School, writing his dissertation in constitutional theory.
Details About Isabella Freedman
For more information about accommodations, dining, transportation, campus amenities, and COVID-related policies, please visit our Guest Information and FAQ page.
Isabella Freedman Guest Experience & FAQ