MD Energy Advisors (MDEA) a commercial, utility, and financing energy solutions company, recently identified an opportunity to maximize existing structures and solar energy to power multiple properties and offset energy consumption for buildings connected to The Associated: Jewish Federation of Baltimore, an organization with the goal to strengthen and nurture Jewish life by engaging and supporting community partners in Greater Baltimore, Israel and around the world.
In collaboration with Luminace, a leading fully integrated decarbonization-as-a-service provider in North America, sponsoring accessible, reliable, and renewable energy infrastructure to empower the zero-emissions future, MDEA identified an opportunity to produce more than an estimated 4 million kWh in the first year alone, across two rooftop solar farms, to support energy production to eight organizations.
This solar project is one component of The Associated's larger community sustainability initiative. The organizations that will benefit from the rooftop solar farm in Baltimore include:
The Associated: Jewish Community Federation of Baltimore
Comprehensive Housing Assistance Inc.
Edward A Myerberg Senior Center Inc.
Jewish Community Center of Baltimore Inc.
Jewish Community Services
Jewish Museum of Maryland
Pearlstone Conference & Retreat Center Inc.
"The Associated system has long prided itself and been publicly recognized as a leader in environmental and sustainability efforts. The addition of green power from solar is not only advancing organizational value but will have a clear positive economic impact on our system as well."

Marc B. Terrill, president of The Associated
The Associated is one of the founding members of the Jewish Climate Leadership Coalition, led and formed by the national organization, Adamah, headquartered at Pearlstone in Reisterstown, Maryland. As a founding member, The Associated has released its climate action plan, outlining its strategic priorities, one of which is an emphasis on solar power, specifically to use solar power for 100% of its utility needs.
"Part of our mission at Pearlstone is to mobilize the Jewish community to respond to climate change at the pace and at the scale that this crisis demands. This new project advances these goals, reducing our energy footprint and increasing our community impact, so we're very pleased to see this new project come to fruition."

Jakir Manela, Chief Executive Officer of Adamah
"This project with MD Energy Advisors to support the environmental sustainability initiatives of The Associated is yet another example of Luminace's diverse portfolio of customer-centric decarbonization solution sand our commitment to the communities we serve in Maryland and throughout the US," said Brendon Quinlivan, CEO of Luminace.
Participating in a solar energy project has numerous benefits including, but not limited to: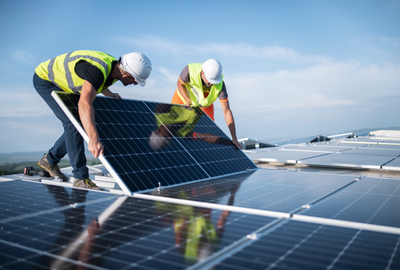 Mitigating energy-related risk; offering a fixed-rate term of 20 years and avoiding the impact of price changes of volatile energy markets.
Providing maximum protection on a financial investment, including reaching long-term carbon reduction goals.
Environmental benefits including supporting reducing emissions, achieving corporate sustainability goals, and accumulating LEED points.
Further, the offsite solar option leveraged in this instance also has numerous advantages including:
Solar energy project participation including benefits of receiving the electricity production output without the infrastructure, sunlight exposure, building ownership or capital expenditure requirements of on-site solar energy.
Costs savings up to 30%
"Throughout the last few years, we've been very fortunate to support multiple projects with The Associated," said Jason Schwartzberg, president and cofounder of MD Energy Advisors. "Their ability to be forward thinking and their commitment to environmental and sustainability initiatives deserved to be both recognized and applauded."